Image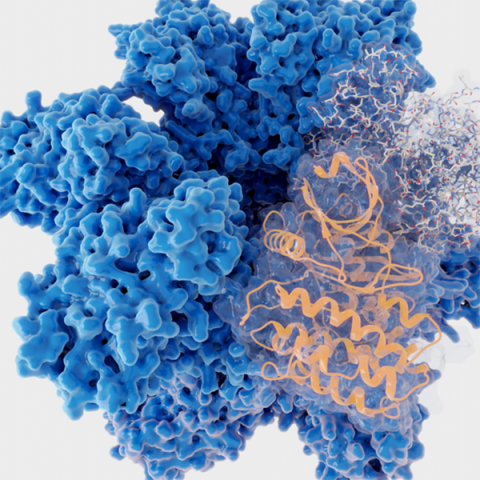 TIE2 kinase inhibition for advanced or metastatic solid tumors
Rebastinib is a potential first-in-class investigational, orally administered, potent, and highly selective inhibitor of the TIE2 kinase that was discovered using our proprietary drug discovery platform. TIE2 is the receptor for angiopoietins ANG-1 and ANG-2, an important family of vascular growth factors. TIE2 receptors are expressed on endothelial cells and angiogenic macrophages promoting the survival, maturation, and functional integrity of the vasculature and play a key role in regulating tumor angiogenesis, invasiveness, and metastasis. Rebastinib binds potently into the switch pocket of TIE2, stabilizing the inhibitory switch and displacing the activation switch to block TIE2 signaling. Rebastinib is currently being evaluated in a Phase 1b/2 clinical study in combination with paclitaxel.
Rebastinib in Combination with Paclitaxel

The Phase 1b/2 study of rebastinib in combination with paclitaxel is a two-part, open-label, multicenter study assessing the safety, tolerability, anti-tumor activity, and pharmacokinetics of rebastinib in patients with advanced or metastatic solid tumors. At the European Society for Medical Oncology (ESMO) Congress in September 2021, we announced updated preliminary results from the ongoing Phase 1b/2 study of rebastinib in combination with paclitaxel in patients with platinum-resistant ovarian cancer (PROC).

The data was from the second stage of Part 2 of the Simon two-stage design in PROC. Of the 34 patients that met the criteria for the modified intent-to-treat population (mITT), the median progression-free survival (PFS) was 9.1 months. There were 13 patients with objective responses (10 confirmed) for an objective response rate of 38% (confirmed and unconfirmed) and 29% (confirmed only) with a median duration response of 5.5 months. Rebastinib in combination with paclitaxel was generally well tolerated at 50 mg BID, and most common (≥15%) treatment-emergent adverse events were Grade 1 or 2.

To learn more about this study, click here.

To access most recent data, click here.